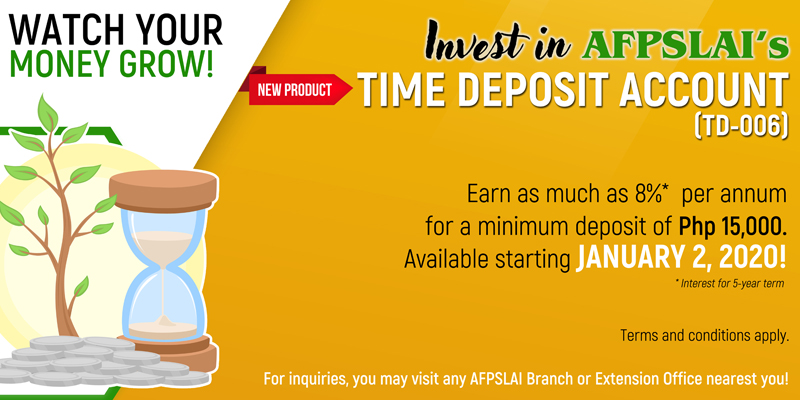 TIME DEPOSIT ACCOUNT
A deposit alternative for members whose Capital Contribution Account has already reached the maximum limit.
Eligibility:
Open to Regular and Associate members with existing SD-002 Account where he/she is the principal depositor
Features:
Minimum deposit of ₱15,000
Deposit anytime (no placement period)
Interest earned shall be posted semi-annually. Principal and remaining interest shall be posted to SD-02 account upon maturity.
Documentary Stamp Tax (DST) to be shouldered by AFPSLAI
Duly filled-out TD Account Form and TD Agreement
Requirements:
AFPSLAI ID
SD-002 passbook
Proof of sources of funds
Other terms and conditions:
Single account only. No co-depositors allowed.
Deposits must not come from other savings accounts of the member or his family group.
Members can pre-terminate his/her TD, subject to

Pre-termination rate

| | |
| --- | --- |
| At least half of the term | 50% of the interest rate. |
| Less than half of the year | 25% of the interest rate. |

DST shall be deducted in full from the pre-termination proceeds.
Proceeds of the pre-termination shall be posted to member's SD-002 account.
The TD Agreement must be surrendered to AFPSLAI where the TD was originally opened.