IMPLEMENTING RULES AND REGULATIONS (RULES) AND FREQUENTLY ASKED QUESTIONS (FAQs) ON BAYANIHAN TO RECOVER AS ONE ACT 2
As coordinated with the different Finance Centers, the loan moratorium coverage for all loans payable through pension and salary deduction, in compliance with R.A. No. 11494 or "Bayanihan to Recover as One Act (Bayanihan 2)", will vary per pay jurisdiction, as follows:

We reiterate that the suspension of loan payment will apply to all existing, current, and outstanding loans with AFPSLAI granted prior to September 15, 2020 (effectivity of R.A. No. 11494).
Also, there will be no incurring of interest on interest, penalties, fees, and other charges during the mandatory one-time 60-day period. This will only result in an extension of your loan term for another two months.
Foregone interests during period of loan moratorium will however be collected on the new due date in cases of loan renewal pursuant to BSP Memorandum No. M-2020-068 and M-2020-075.
The Implementing Rules and Regulations (Rules) and Frequently Asked Questions (FAQs) on R.A. No. 11494 can be downloaded here. The Bangko Sentral ng Pilipinas (BSP) has issued Rules and FAQs to provide additional guidance and clarification on the implementation of the grace period.
---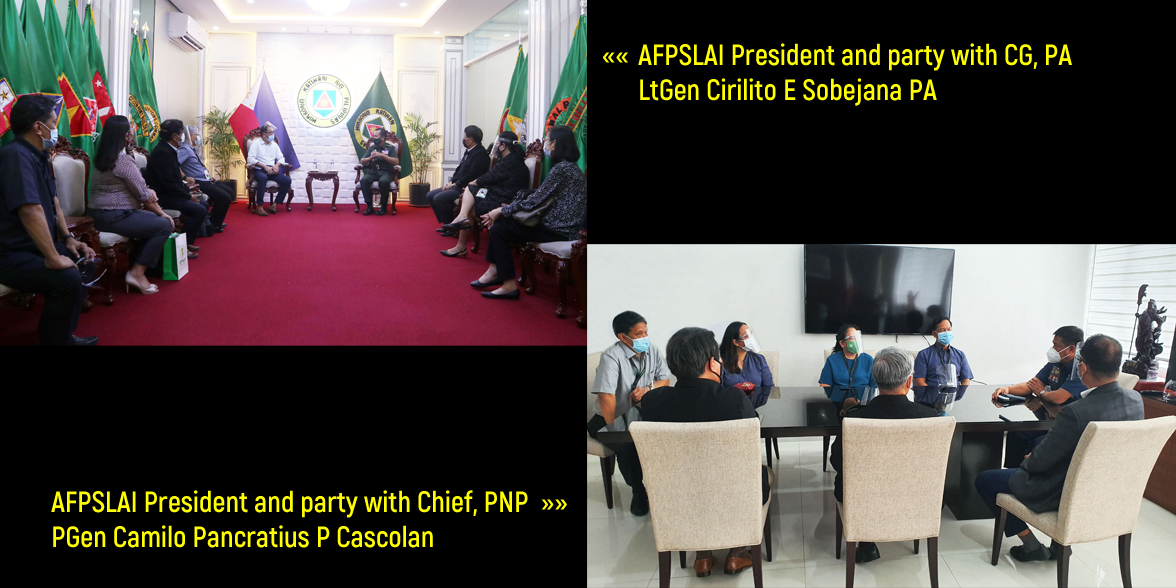 AFPSLAI Renders Courtesy Calls to the Chiefs of PA and PNP
In line with the ongoing efforts to strengthen ties with the major services of the AFP and PNP, AFPSLAI President and CEO, MGen Roseller G Murillo PA (Ret), rendered a courtesy call to the Commanding General of the Philippine Army (PA), LtGen Cirilito E Sobejana PA on September 18, 2020 at Fort Bonifacio, Taguig City and the Chief, PNP, PGen Camilo Pancratius P Cascolan on October 6, 2020 at PNP Headquarters, Camp Crame, Quezon City.
MGen Murillo was accompanied by BGen Rodel Mauro R Alarcon PA (Ret), EVP-GM; MGen Lenard T Agustin PA (Ret), SVP for Treasury; MGen Guillermo A Molina Jr II PAF (Ret), SVP for Administration; Ms Rosario D Santos, SVP for Comptrollership; Ms Marilyn G Gahite, SVP for Operations; Col Antonio L Sotelo Jr PAF (Ret), Acting Head, General Services Office; and Ms Marie Antoinette D Dela Cruz, Head, Corporate Affairs Division.
---
IMPORTANT ADVISORY TO ALL AFPSLAI MEMBERS
SUBJECT: TERMINATION OF MEMBERSHIP
Pursuant to Article XI, Sections 4 and 5 of the amended AFPSLAI By-Laws and its implementing rules and regulations, AFPSLAI shall be terminating the membership of those who:
failed to update their membership records for at least ten (10) years; and
are still categorized as cadets/probationary officers but have long been separated from the academy/training school for reasons other than graduation or complete disability discharge (CDD) leading to becoming a pensioner.
Non-updating of records for at least 10 years

Membership termination of principal members shall mean automatic termination of the associate membership of their dependents.
Should the associate members be the ones subject to termination, the principal members could retain their membership if their accounts have been updated at least once over the last 10 years.

Ineligible cadets/probationary officers

Members are advised to visit any of the AFPSLAI Branch Offices and present appropriate documents to justify their membership retention.
Members subject of cleansing may be converted to either regular or be retained as associate members subject to satisfaction of eligibility requirements.
The list of members due for termination is listed here. Concerned members should update their membership records not later than December 29, 2020 (Tuesday). Membership termination shall commence on January 26, 2021 (Tuesday).
Members whose membership was terminated in accordance with this policy may apply for readmission and shall be treated as new applicants for membership, subject to the same terms and conditions applicable to newly admitted AFPSLAI members
---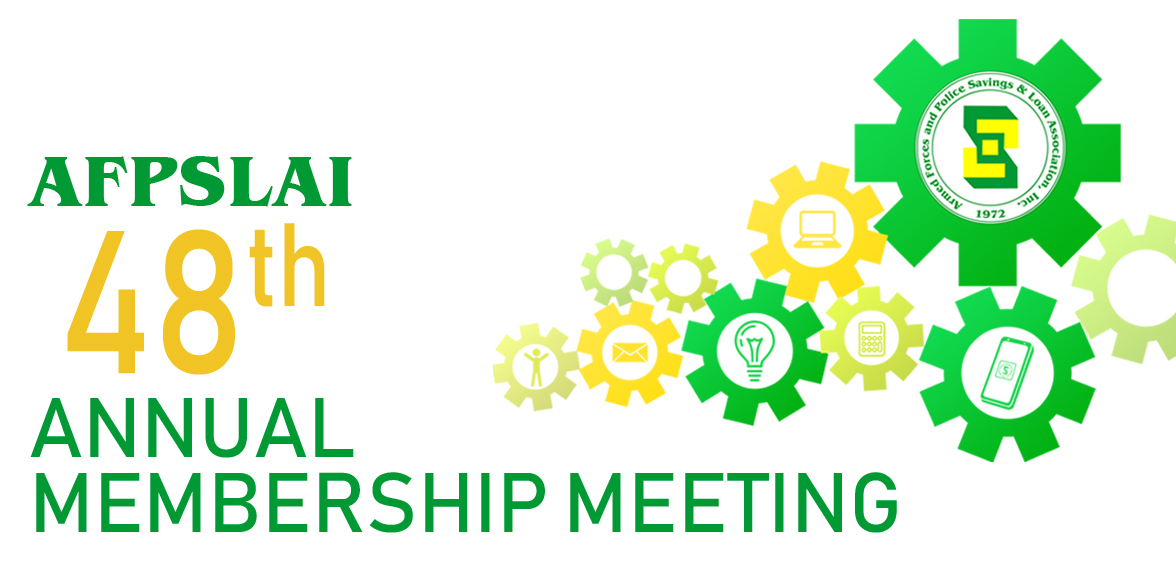 Highlights of AFPSLAI's 48th Annual Membership Meeting
In view of the COVID pandemic and the restriction on mass gatherings, AFPSLAI virtually held its 48th Annual Membership Meeting on July 25, 2020 (Saturday) at 8:00 a.m. via Zoom application. Regular members participated in the virtual meeting for the review of the Association's accomplishments for the year 2019 through the President's Report; approval of the amendments to the Articles of Incorporation and the By-Laws; and election of the Board of Trustees for Y2020-2021.
In his Opening Remarks, the AFP Chief of Staff and AFPSLAI Chairman of the Board of Trustees, Gen Felipe T Santos Jr PA, said that AFPSLAI capped the year 2019 with a strong financial performance amidst regulatory and policy reforms, and intense competition from other financial institutions. For the year 2019, AFPSLAI focused on the enhancement of its products and services that are attuned to the varying needs of the members; the improvement of its infrastructures, core business processes, internal control, compliance and risk management in order to maintain the momentum of solid growth; and the performance of dynamic initiatives towards digital transformation to stay competitive and relevant in the fast changing business environment. These achievements speak of the Association's stern commitment towards operational excellence, judicious financial planning & management, and customer-centric organizational culture. More than ever, Gen Santos Jr expressed that AFPSLAI has taken the challenges brought by COVID-19 to further enforce the resolve of the Association and demonstrate its corporate value of malasakit sa miyembro, sa kumpanya, at sa bansa.
The message of Gen Santos Jr was then followed by the Report of then President & CEO MGen Emeraldo C Magnaye PAF (Ret), which focused on the financial and operational highlights of AFPSLAI, as well as the Association's initiatives on corporate social responsibility and its future outlook as the country shifts to the "new normal" due to the current global health crisis. MGen Magnaye ended his speech by extending his gratitude to all the members for their continuing support and patronage; to the Board of Trustees for their guidance and oversight; and to the AFPSLAI Management Team and employees for their untiring commitment.
At the end of the meeting, cash prizes were raffled off using a software developed by the AFPSLAI Information Systems Division (ISD). Minor prizes had been pre-drawn the day before the meeting. The cash prize will be deposited to the Savings Account of the winning member. The raffle was facilitated by the Raffle Committee and IT Support Committee, and supervised by the Audit Committee. The winners are listed below.
On the other hand, those who registered and actually participated in the virtual meeting will receive a free meal from Jollibee. An e-coupon code will be sent to the e-mail address of the participating member. To claim the free meal, the member must present the e-coupon code at any Jollibee restaurant nationwide. Redemption is valid until September 25, 2020.
---
TERMINATION OF MEMBERSHIP
DUE TO NON-ELIGIBILITY AND BELOW MINIMUM REQUIREMENT FOR CCA
Pursuant to BSP Circular 993, and the AFPSLAI By-Laws (Section 1, Article III and Sections 5 & 7, Article XI) and its implementing rules and regulations, AFPSLAI shall be terminating the membership of those who have failed to provide documentary proofs that they are eligible to become AFPSLAI members and have less than Php 1,000 in their Capital Contribution Account (CCA). The list of members due for termination is listed here.
Concerned members should make a deposit to meet the minimum CCA maintaining balance and submit the following documents to the nearest AFPSLAI Branch Office not later than July 15, 2020 (Wednesday) to avoid membership termination effective July 27, 2020 (Monday):
Acceptable Documents as Applicable

Member Identification

Valid AFPSLAI ID or any 2 valid government-issued photo IDs

Regular Members

Appointment Order (for active police/military)
Retirement Order/ Declaration of Legal Beneficiary (for retired military/pensioner)
Appointment Order or Certification from Admin/ HR/ Personnel Affairs Offices for Civilian Employees or equivalent documents

Associate Members

Copy of birth certificate (child) / marriage contract (spouse)
For PVAO pensioner: Appointment Order or equivalent document
Endorsement Form from Regular Member
Members whose membership was terminated may apply for readmission and shall be treated as new applicants for membership, subject to the same terms and conditions applicable to newly-admitted AFPSLAI members.
---
Alternative Method of Authenticating Special Power of Attorney (SPA) and other Public Documents
Pursuant to the accession of the Philippines to the Hague Convention (commonly known as "The Apostille Convention"), AFPSLAI shall now accept public documents with apostille certification to replace legalization or consular authentication of foreign public documents. The public documents, however, must be executed by the authorities of the Apostille-contracting countries and territories. Else, the previous process of legalization or consular authentication shall apply.
Public documents shall refer to Special Powers of Attorney (SPAs); General Powers of Attorney; Affidavits; Deeds; Contracts; Assignments; Certificates of Birth, Marriage or Death; and other official documents.
An apostilled SPA shall now be allowed for the following AFPSLAI transactions if made thru an authorized representative:
Withdrawals in excess of Php 50,000 or even below Php 50,000 if without withdrawal slip or if the slip is not properly filled out
Claim of termination proceeds
Request for bank certificates and statements of accounts
Passbook replacement (loss/filled-up)
Request for account conversion (single to joint or vice versa; additional/deletion of co-depositor)
An apostilled SPA shall be valid for twenty-four (24) months from the date of acknowledgement, except if to be used for AFP Pension Accounts as the term shall be determined by the AFP Finance Center.
For an updated list of Apostille-contracting countries and their competent authorities, please visit this link:
https://www.hcc.net/en/instruments/conventions/authorities1/?cid=41
Please be guided accordingly.
---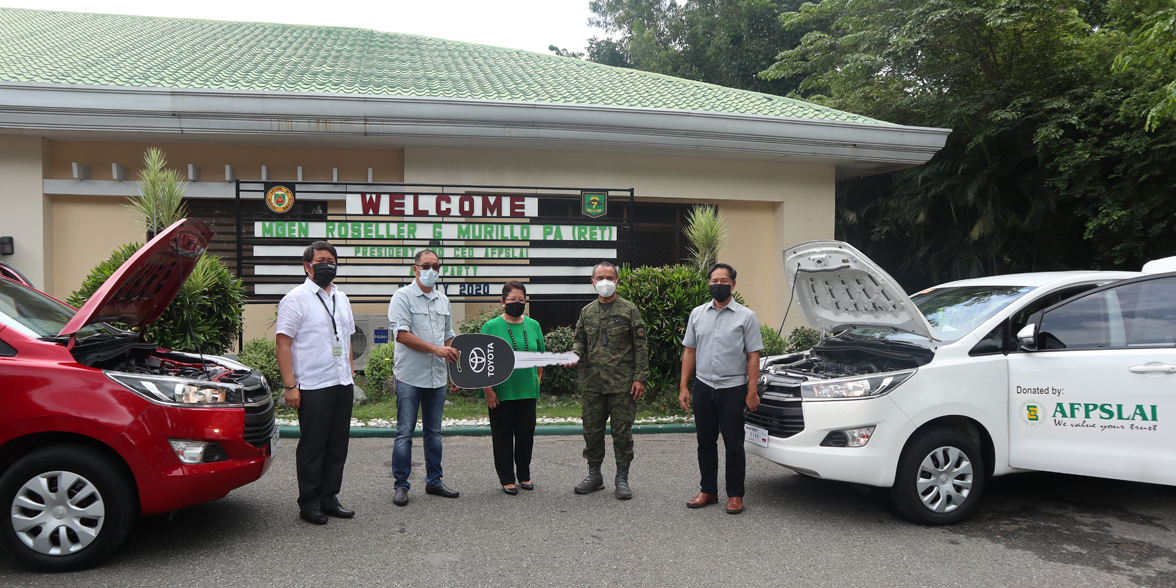 AFPSLAI Donates Two Service Vehicles to 7ID
AFPSLAI President and CEO, MGen Roseller G Murillo PA (Ret), turned over the donation of two (2) Innova vehicles to 701st and 702nd Infantry Brigades, 7th Infantry (KAUGNAY) Division on July 31, 2020 at Fort Magsaysay, Palayan City, Nueva Ecija.
The vehicles which are intended to enhance existing mobility assets of the two brigades were, received by 7ID Commander, MGen Alfredo V Rosario Jr PA. Also present during the turn-over were AFPSLAI's SVP, Treasury MGen Lenard T Agustin PA (Ret); SVP, Administration/Chairman of Donations Committee MGen Guillermo A Molina Jr II PAF (Ret); and AFPSLAI Clark Branch Head Ms Angelie A Bruel.
---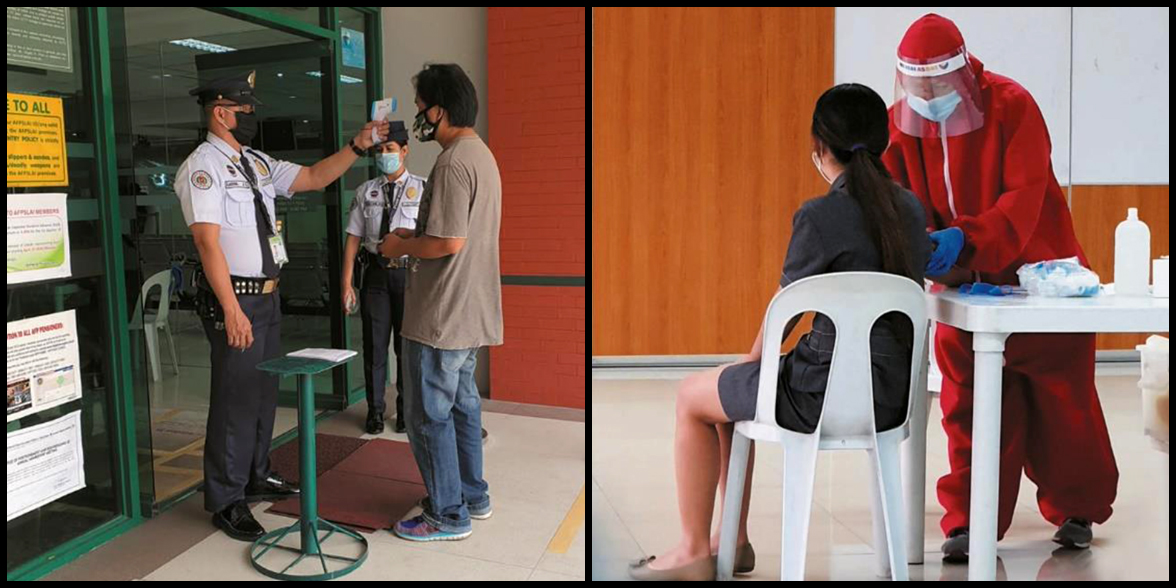 AFPSLAI activates Business Continuity Plan amidst COVID-19 crisis
On March 8, 2020, upon declaration of the State of Public Health Emergency throughout the country, the BCP Committee convened and activated the Business Continuity Plan. Guided by government policies and pronouncements, several measures were undertaken by the Association to ensure business continuity amidst the COVID pandemic, as follows:
OPERATIONS
With the declaration of Luzon-wide Community Quarantine, Management decided to temporarily cease operations starting March 17 (for NCR-Luzon Branches) and March 18 (for VisMin Branches) in support of the Government's effort to curb the spread of COVID-19. Due to the restriction on mass gatherings, Management also cancelled all scheduled corporate activities such as information drives, financial literacy seminars and medical missions, among others.
In order to address the financial needs of its members, AFPSLAI decided to resume business operations starting April 13, 2020. In preparation for the reopening of offices, disinfection of office premises was prioritized and safety procedures, such as wearing of face masks, disinfection of footwear, thermal scanning, hand sanitation, and social distancing were put in place. Plastic shields were also installed to protect all frontline employees from the virus given their direct exposure to transacting members.
Management also had a special planning session to discuss its plans and program for the rest of the year considering the implications of quarantine, and the impact of the pandemic on the overall financial and operational performance of the Association.
ASSISTANCE TO MEMBERS
In consideration of the financial difficulty being experienced by the members brought about by the pandemic, AFPSLAI granted a two-month (April and May) loan moratorium for loans paid through salary/pension remittance. Due to the temporary closure of our offices nationwide, over-the-counter loan payments were also extended, without penalties.
EMPLOYEE HEALTH AND SAFETY
In compliance with DOH and DOLE guidelines, AFPSLAI had put in place procedures on the prevention and control of COVID-19.
AFPSLAI implemented alternative work arrangements such as work-from-home, reduction of work hours, rotation of workers and flexi-time, to minimize contact incidences. Medical supplies (vitamins, face masks, alcohol) and free shuttle service were also provided for the protection and safety of employees.
The health of all employees is monitored daily through the AFPSLAI COVID Monitoring System. Daily reporting is made by the Compliance Officer to the BSP on the results of the daily survey. Mass testing using rapid antibody tests is currently being done to ensure that all employees, including project-based personnel, are protected from COVID-19 spread and infection.
CSR INITIATIVES
Several donations were made to help partner-institutions perform their functions during the crisis. These include the donation of one ambulance to the Veterans Memorial Medical Center (VMMC); donation of grocery items to uniformed personnel assigned in checkpoints; donation of medical supplies such as N-95 masks, personal protective equipment, goggles and gloves, to healthcare workers in AFP Medical Center, PNP General Hospital and VMMC.
As a fund-raising initiative, employees also raised over Php 500K, which will be used to purchase COVID-related items for donation to the National Disaster Risk Reduction and Management Council (NDRRMC).
---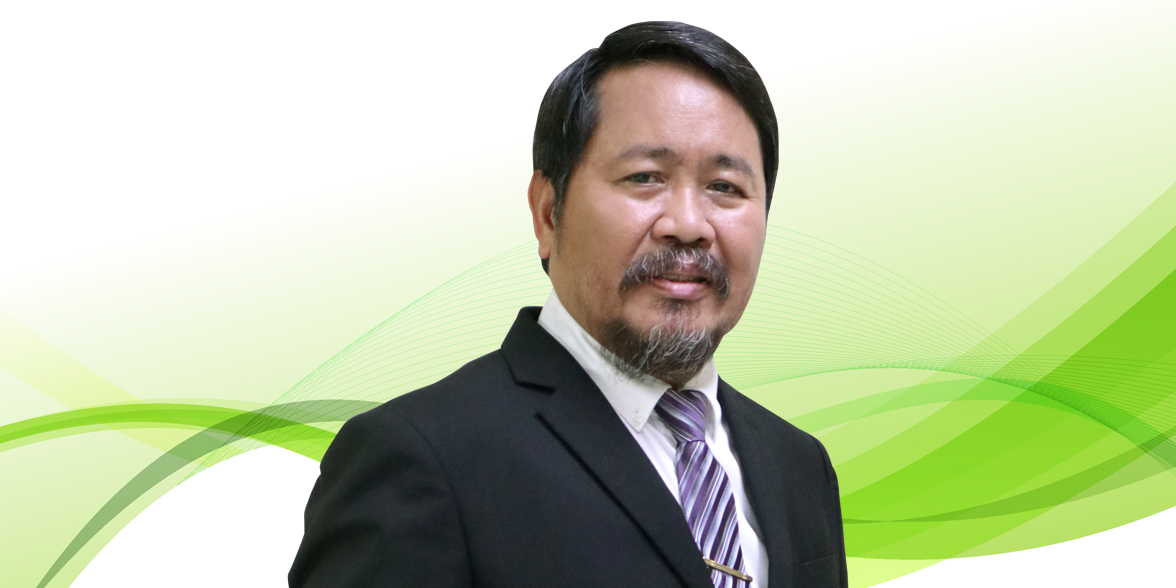 AFPSLAI welcomes its new SVP for Treasury
MGen Lenard T Agustin PA (Ret) was appointed as AFPSLAI's Senior Vice President for Treasury effective June 1, 2020. Born in Pasay City, MGen Agustin is a member of the Philippine Military Academy "Sinagtala" Class of 1986. He holds a Master's Degree in Management Major in Public Administration at the Philippine Christian University.
He brings leadership, management and business skills developed as Commander of 7th Infantry (Kaugnay) Division; Commander of the 201st Infantry (Kabalikat) Brigade; Chief of Staff of the 2nd Infantry (Jungle Fighter) Division; Deputy Commander of AFP Civil Relations Service (CRS); Deputy Chief, Army Resource Management Office (ARMO); Commanding Officer of 20IB and 63IB; Assistant/Acting Comptroller of AFP Medical Center; Assistant General Manager/Finance Manager of AFP Commissioned Officers Club; and Budget & Fiscal Officer of CRS.
As the Corporate Treasurer and SVP for Treasury, MGen Agustin will oversee AFPSLAI's cash operations and investments; billing and collection; and management and disposal of acquired assets.
---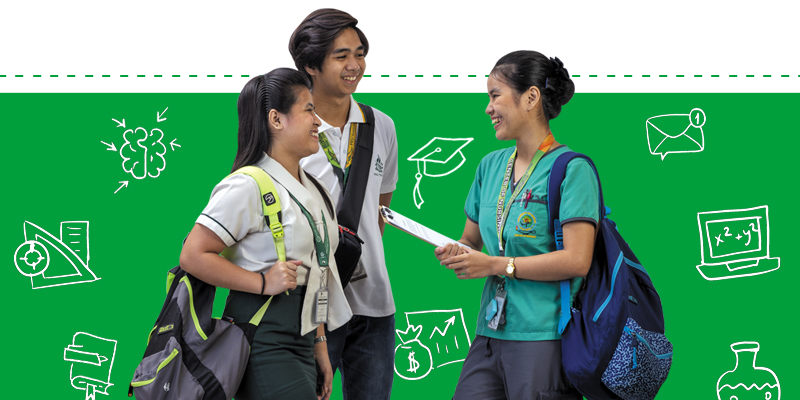 AFPSLAI Now Accepting Applications for Educational Grant Program
AFPSLAI is now accepting applications for its Educational Grant Program (EGP) starting April 13, 2020 (Monday).
The AFPSLAI Educational Grant Program caters to the educational needs of dependents of AFPSLAI Regular Members in need of financial assistance to pursue and complete tertiary education. Under the said program, grantees are provided with benefits and privileges, including payment of tuition and miscellaneous fees, monthly stipend, books and board & lodging expenses.
The following are the qualifications:
Sponsor
Must either be a:

Regular member of AFPSLAI; or
Deceased and former regular member of AFPSLAI

With an aggregate annual family income not exceeding ₱950,000
Sponsor (if not deceased) and spouse (if a member) must be in good standing with AFPSLAI
Applicant
Legitimate / Illegitimate or legally adopted child of married / unmarried sponsor
In the absence of children, legitimate / illegitimate or legally adopted brother or sister of single / unmarried sponsor
Must be an incoming first year college student
Applications must be completed and submitted at the nearest AFPSLAI Branch Office on or before July 15, 2020 (Wednesday).
Full details of the program can be found here.
---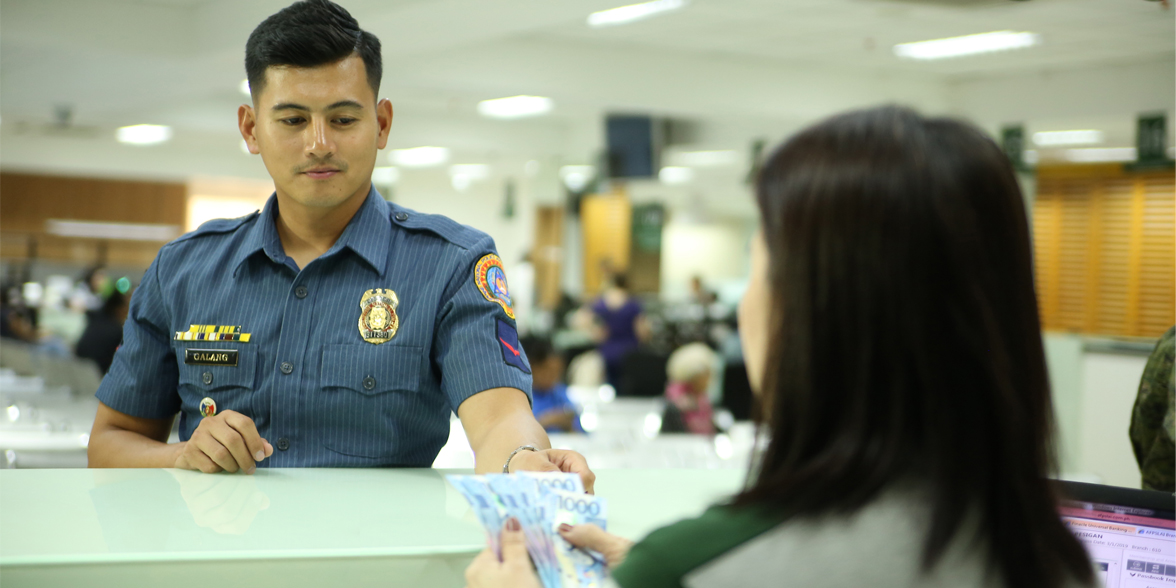 Important Advisory to All AFPSLAI Members
With the extension of the Enhanced Community Quarantine (ECQ) in identified COVID-19 prone areas of the country up to May 15, 2020 while others are placed under General Community Quarantine (GCQ), we understand that this crisis would continue to bring financial distress to our members. Hence, AFPSLAI shall implement the following:
Extension of the 30-day suspension of loan payments and other related interests for another 30 days effective May 2020 for all types of loans paid through salary/pension deduction. Thus, there will be no penalty charges for the deferred payments for April and May under automatic deductions.
Similarly, there will be no penalty charges for over-the-counter (OTC) payments on loans due from March 16 to May 15, 2020, provided that payments are made on or before May 22, 2020.
We are committed to helping our members, especially our frontline heroes, during this difficult time.
AFPSLAI Management
---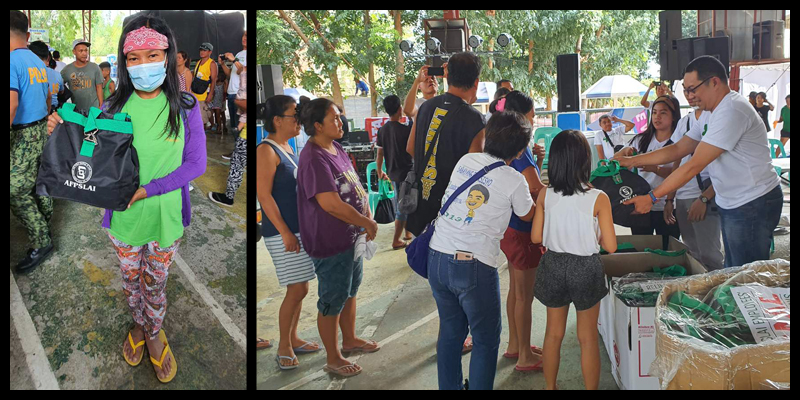 Taal Volcano Victims Receive Aid from AFPSLAI
Last January 30, 2020, AFPSLAI conducted relief operations to help the residents in Batangas affected by the eruption of Taal Volcano.
AFPSLAI employees pooled their resources to donate water, canned goods, toiletries, clothes, pillows, towels, sleeping mats, and blankets.
The relief operation team, composed of employees from Corporate Affairs Division and AFPSLAI Lucena Branch, together with some volunteers from the AFP, brought the relief goods to the victims who are taking temporary shelter in Bauan Technical High School and Batangas Police Provincial Office.
---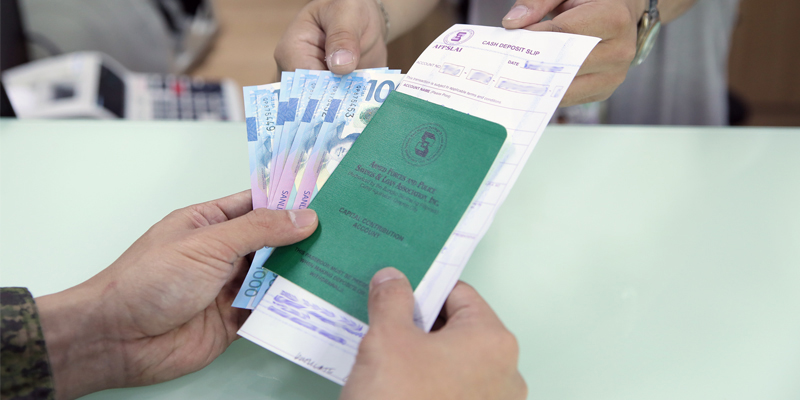 Great News to All AFPSLAI Regular Members
Quarterly placement for Capital Contribution Account (CCA) is now increased to ₱150,000! Terms & Conditions:
Implementation of new placement limit starts in October 2019
Valid only through salary or pension deduction
Maximum quarterly CCA placement limit is inclusive of over-the-counter deposit of ₱15,000
Save money. Save time. AUTOMATE YOUR SAVINGS NOW! For inquiries, you may visit any AFPSLAI Branch or Extension Office nearest you!
---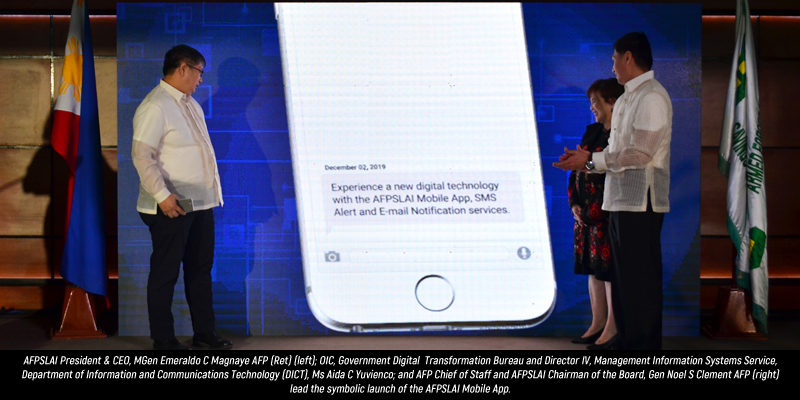 AFPSLAI Celebrates 47th Anniversary with Launch of New Services
On December 2, 2019, the Armed Forces and Police Savings & Loan Association, Inc. (AFPSLAI) celebrated its 47th Founding Anniversary with the theme, "Fostering Innovation through Digital Transformation".
One of the highlights of the celebration is the launch of the AFPSLAI Mobile App that will allow members to monitor their deposit and loan balances, view recent transactions, apply for loans and open a savings deposit account. Aside from the convenience the App provides, it also helps members to have better control of their finances.
AFPSLAI has also announced the availability of its enhanced SMS and e-mail services. With the upgraded versions, members will now be able to receive SMS alerts on their withdrawal and loan transactions, promos, and other advisories. Those who will register their e-mail addresses will be able to receive important advisories, promos, latest news, and letters pertaining to the status of their loan and deposit accounts.
Members must personally fill-out the Registration Form at the nearest Branch Office to be able to download and to access the AFPSLAI Mobile App; to receive alerts thru SMS; and to receive e-mail. Members whose membership record have not been updated for at least three years need to update their membership prior to registration.
For these services, AFPSLAI tied up with technology partners, Consolsys and Infobip.
The program was also highlighted by the recognition of the awardees of the Excellence Awards for 2019.
Present during the program were Director of Management Information Systems Service, Department of Information and Communications Technology and the Officer-In-Charge of the Government Digital Transformation Bureau, Director Aida C Yuvienco; AFP Chief of Staff and AFPSLAI Chairman of the Board of Trustees, Gen Noel S Clement AFP; Vice Chairman MGen Romeo D Lustestica AFP (Ret); other members of the Board of Trustees, Guests, and Head Office and Branch Office managers, supervisors and personnel.
---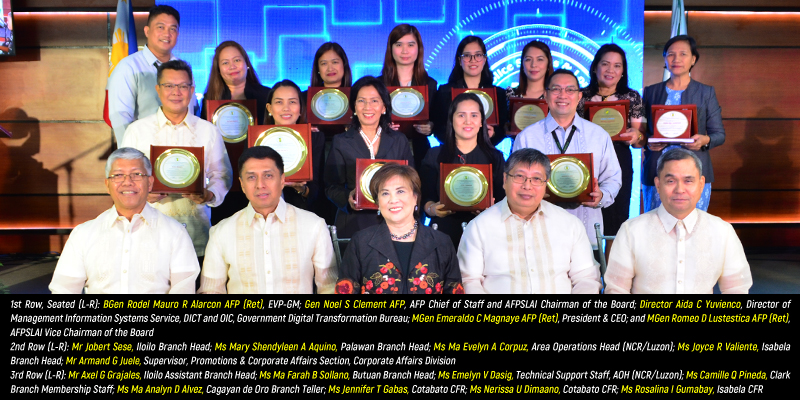 AFPSLAI Recognizes Outstanding Employees and Branch of the Year
AFPSLAI promotes a culture of excellence not only for its members, but also for its employees. The sustained success of the Association is significantly credited to its workforce. Thus, awards were conferred to deserving employees during the formal program of AFPSLAI's 47th Anniversary on December 2, 2019.
The Outstanding Civilian Field Representative (CFR) of the Year award recognizes the deserving CFRs who have contributed to the overall net loan production of their respective areas/branches.
Qualified candidates for the Employee, Supervisor and Manager of the Year were evaluated based on the following parameters: Commitment & Dependability, Feedback, Significant Accomplishments, and Personality & Work-Life Balance. The recognition is given to employees for their exemplary performance insofar as personnel, operational and model administrative management of their unit/individual tasks is concerned, thereby contributing invaluably to the overall success of the Association.
Lastly, the Outstanding Branch Office of the Year recognition is bestowed to the deserving branch office's exemplary contributions to the Association's overall objectives in the pursuit of operational and service excellence.
The following are the list of winners of AFPSLAI Excellence Awards 2019:
MS JENNIFER T GABAS – CFR of the Year 2019
MS ROSALINA I GUMABAY – CFR of the Year 2019 - 1st Runner-up
MS NERISSA U DIMAANO – CFR of the Year 2019 - 2nd Runner-up
MS EMELYN V DASIG – Employee of the Year 2019 (Head Office Category)
MS CAMILLE Q PINEDA – Employee of the Year 2019 (NCR/Luzon Branch Office Category)
MS ANALYN D ALVEZ – Employee of the Year 2019 (Visayas/Mindanao Branch Office Category)
MR ARMAND G JUELE – Supervisor of the Year 2019 (Head Office Category)
MR AXEL G GRAJALES – Supervisor of the Year 2019 (Branch Office Category)
MS MA EVELYN A CORPUZ – Manager of the Year 2019 (Head Office Category)
MS JOYCE R VALIENTE – Manager of the Year (Branch Office Category)
PALAWAN BRANCH – Branch Office of the Year 2019
BUTUAN BRANCH – Branch Office of the Year 2019 - 1st Runner-up
ILOILO BRANCH – Branch Office of the Year 2019 - 2nd Runner-up
Congratulations to all the Excellence Awardees!
---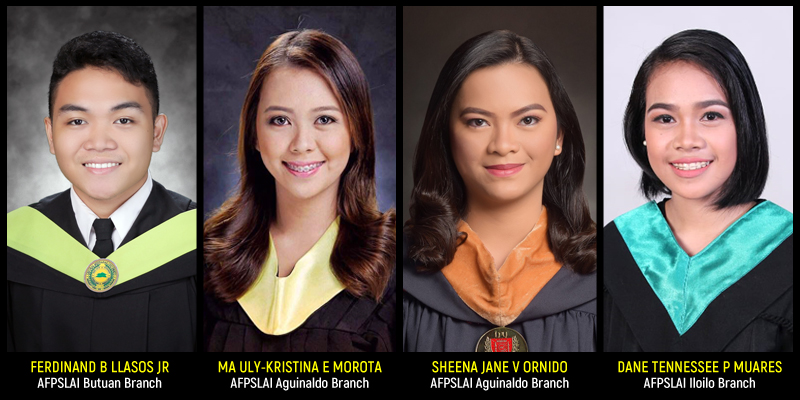 AFPSLAI Scholars Soaring High!
Four (4) AFPSLAI Scholars are now registered professionals as they passed their respective licensure exams.
AFPSLAI scholar-graduates Mr Ferdinand B Llasos Jr of Central Mindanao University and Ms Sheena Jane V Ornido of Lyceum of the Philippines University – Manila are now licensed professionals. Mr Llasos is now a certified public accountant while Ms Ornido is a registered customs broker. Both scholars graduated Cum Laude.
Ms Ma Uly-Kristina E Morota of Centrol Escolar University – Makati passed the Psychometrician Licensure Examination held in October 2019.
On the other hand, Iloilo Doctors' College graduate Ms Dane Tennessee P Muares is a registered nurse after she passed her licensure exam in November 2019.
AFPSLAI is just as proud as the families of these scholars who pursue excellence in their chosen fields. Congratulations and may you serve as inspiration to our existing scholars!
---